PERAN GURU PENDIDIKAN AGAMA ISLAM DALAM MENANAMKAN SIKAP KEBERAGAMAAN YANG TOLERAN
Nuruddin Araniri

Student Doctoral Program IAIN Syekh Nurjati Cirebon
Keywords:
Keywords: Teachers of Islamic Education, religious attitudes, tolerance
Abstract
Tolerance education needs to be taught at school because it is very important to keep the harmony between the religious people in our country in the plural. Islamic Religious Education teachers play a role in teaching and learning to students about Islam that is tolerant and the rahmatan lil alamin, so as not to be exposed to radical Islam understanding. The research uses the Library Research method, namely: research conducted using literature (libraries), whether in the form of books, records, and reports of research results from previous research. The role of Islamic education teachers to instill a tolerant attitude of religion is to give examples to his children with a disdiscriminatory attitude does not provide a social status of economic, religious, language, skin tone, and other Etc. Always promote cooperation or dialogue when there are problems related to religious tolerance, giving understanding of Islamic teachings that are tolerant, moderate and Rahmatan Lil Alamin.
Downloads
Download data is not yet available.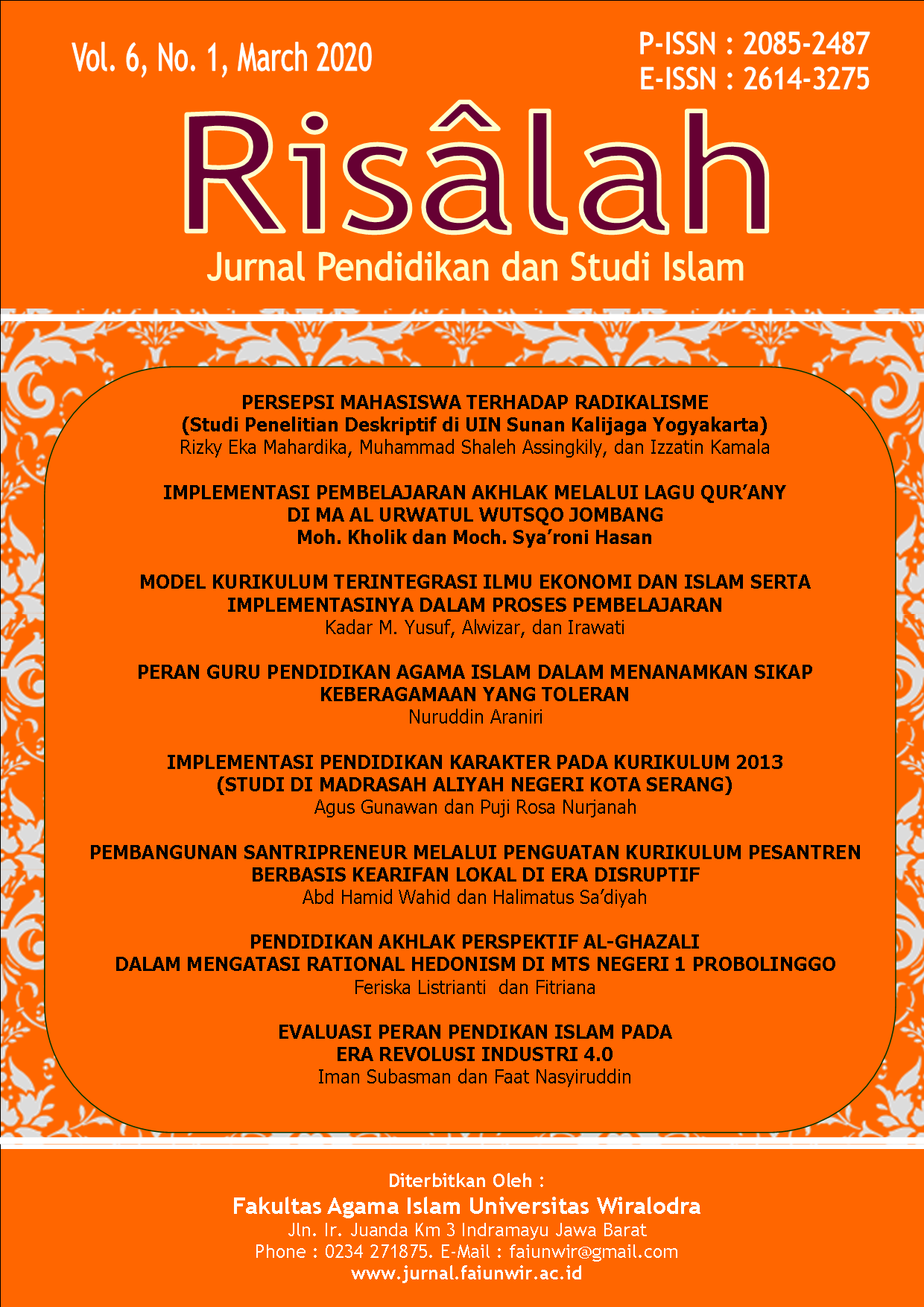 How to Cite
Araniri, Nuruddin. 2020. Risâlah, Jurnal Pendidikan Dan Studi Islam 6 (1, March), 54-65. Accessed September 29, 2020. https://doi.org/https://doi.org/10.31943/jurnal_risalah.v6i1,%20March.122.
is licensed under a
Creative Commons Attribution 4.0 (CC-BY 4.0)
Based on a work at
https://jurnal.faiunwir.ac.id/index.php/Jurnal_Risalah/index
This work is licensed under