IMPLEMENTASI PENDIDIKAN KARAKTER PADA KURIKULUM 2013 (STUDI DI MADRASAH ALIYAH NEGERI KOTA SERANG)
Agus Gunawan

UIN Sultan Maulana Hasanuddin Banten

Nurjanah Puji Rosa

UIN Sultan Maulana Hasanuddin Banten
Keywords:
character education, character values, Curriculum 2013
Abstract
The purpose of this study is to know the character education in MAN Kota Serang, to know the implementation of character education in Curriculum 2013, and to know the strategy of headmaster of MAN in Serang City in the implementation of character education in the curriculum 2013. The research method used in this research is qualitative method, with descriptive analytic research design. Data collection techniques used are, in-depth interviews, documentation and observation. The results of this study states that the implementation of character education in MAN Kota Serang has been well realized. The 2013 curriculum that has been implemented in MAN Kota Serang becomes a reference that makes it easier for all stake holders in applying character education in School. The content of the character values embedded in the students themselves, both at the time of learning activities and during school activities, among others: such as responsibility, courtesy, discipline, and have a high spiritual spirit (religious), honesty, citizenship, confident has become a character that is formed in the students of Madrasah Aliyah in Serang City. Supporting activities or programs for the implementation of character education in schools are well implemented, with several supporting factors ranging from leadership to all stake holders in schools, as well as facilities and infrastructure that support the needs of students to apply life skills in accordance with their potential.
Downloads
Download data is not yet available.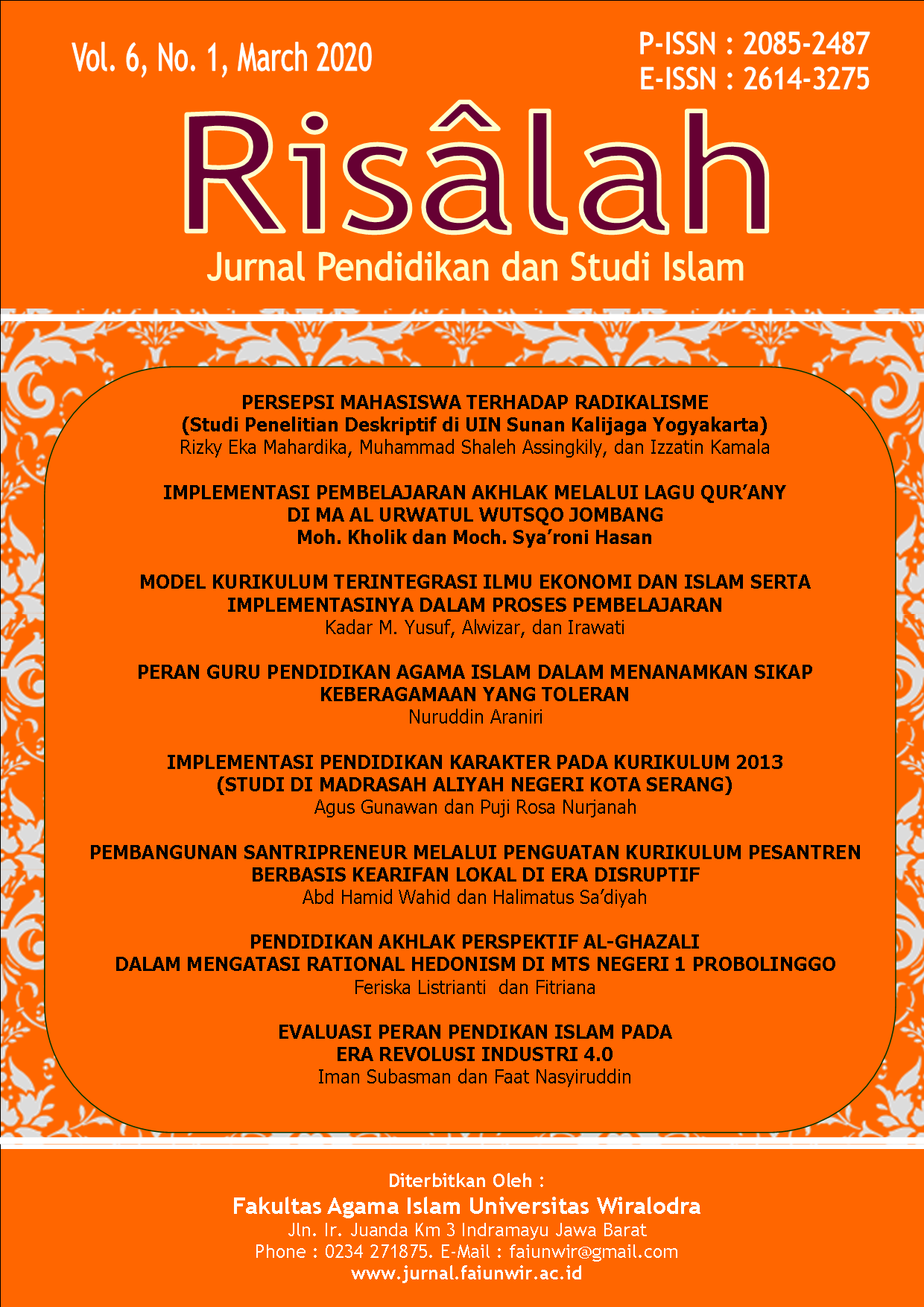 How to Cite
Gunawan, Agus, and Nurjanah Puji Rosa. 2020. Risâlah, Jurnal Pendidikan Dan Studi Islam 6 (1, March), 66-79. Accessed September 29, 2020. https://doi.org/https://doi.org/10.31943/jurnal_risalah.v6i1,%20March.126.
is licensed under a
Creative Commons Attribution 4.0 (CC-BY 4.0)
Based on a work at
https://jurnal.faiunwir.ac.id/index.php/Jurnal_Risalah/index
This work is licensed under