IMPLEMENTASI PEMBELAJARAN AKHLAK MELALUI LAGU QUR'ANY DI MA AL URWATUL WUTSQO JOMBANG
Moh. Kholik

STIT Al Urwatul Wutsqo Jombang

Moch. Sya'roni Hasan

STIT Al Urwatul Wutsqo Jombang.
Keywords:
moral learning, Quran song, students behavioral
Abstract
This research aims to describe the implementation of moral learning through qur'any songs at MA Al urwatul Wutsqo Jombang. To describe the assessment of moral learning through the qur'any song at MA Al urwatul Wutsqo Jombang. This type of field research uses a qualitative approach, with data collection techniques namely observation, interviews and documentation. The research data collected was then analyzed using descriptive qualitative analysis and checking the validity of the data using an extension of the researcher's participation and the credibility test. The results of the study stated that MA Al Urwatul Wutsqo implemented a moral learning plan through qur'any songs including objectives, materials, learning methods and media. The implementation is the teacher sounds first by using the qur-any method, which is sound, read and write, then the students imitate without copying, then the assessment by means, students sing while the teacher looks at the writing, then proofs memorization with writing without copying and the teacher gives a mark. oral test results by sounding the Qur'any song.
Downloads
Download data is not yet available.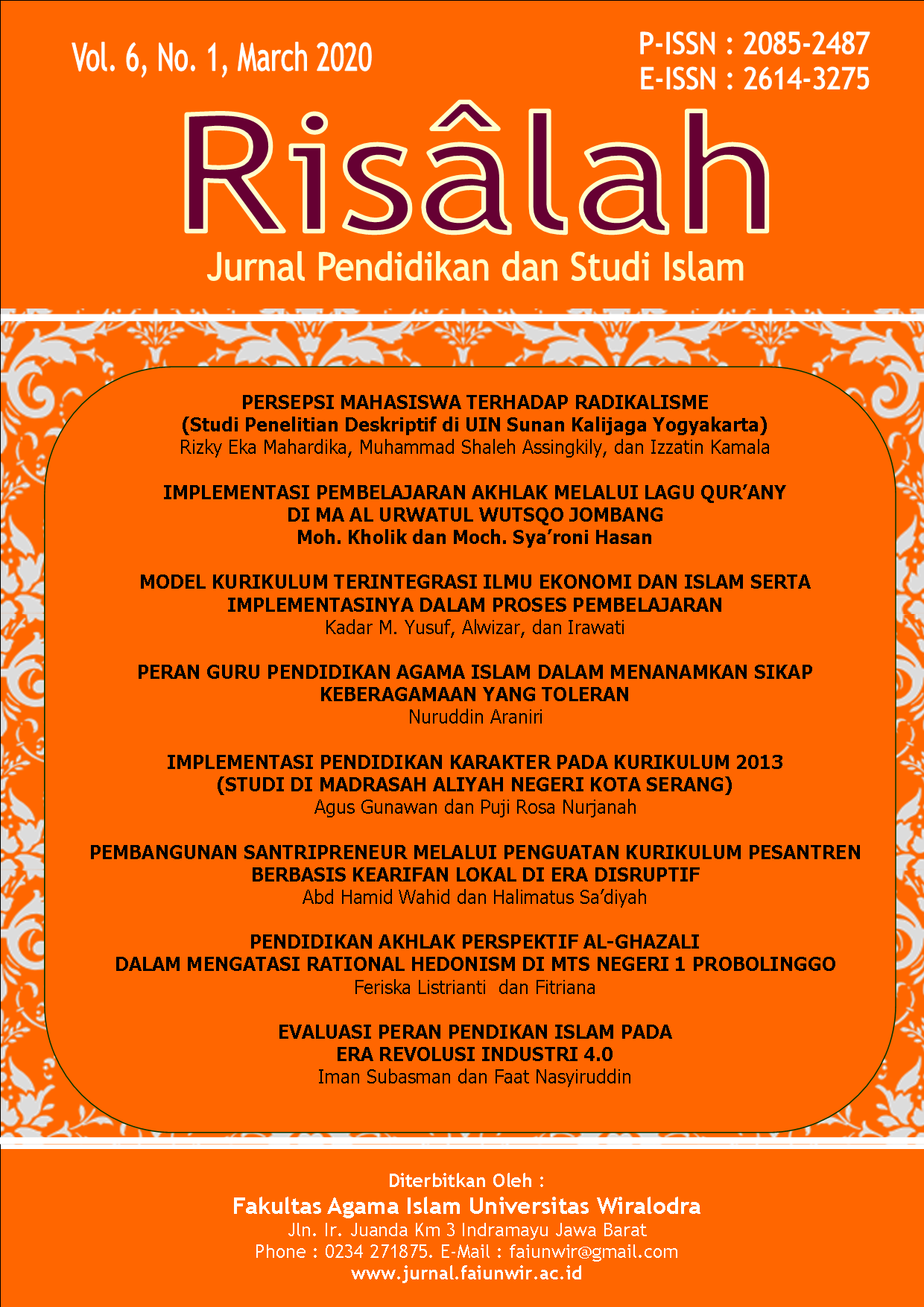 How to Cite
Kholik, Moh., and Moch. Sya'roni Hasan. 2020. Risâlah, Jurnal Pendidikan Dan Studi Islam 6 (1, March), 14-31. Accessed September 29, 2020. https://doi.org/https://doi.org/10.31943/jurnal_risalah.v6i1,%20March.127.
is licensed under a
Creative Commons Attribution 4.0 (CC-BY 4.0)
Based on a work at
https://jurnal.faiunwir.ac.id/index.php/Jurnal_Risalah/index
This work is licensed under