EVALUASI PERAN PENDIKAN ISLAM PADA ERA REVOLUSI INDUSTRI 4.0
Iman Subasman

Universitas Islam Al-Ihya Kuningan

Faat Nasyiruddin

STAI Sayid Sabiq Indramayu
Abstract
Perkembangan teknologi pada era revolusi industri 4.0 telah mempengaruhi karakter pelajar. Untuk menjaga dampak negative dari perkembangan teknologi diperlukan peran pendidikan islam. Menggunakan metode penelitian kualitatif studi pustaka mendapatkan beberapa temuan bahwa untuk meningkatkan peran pendidikan dalam mengantisipasi perubahan karakter para pelajar maka pendidikan islam ; membutuhkan dukungan kebijakan, dukungan sumber daya yang memadai, dukungan dari masyarakat, sosialiasi kepada para implementator kebijakan dan menyerap nilai-nilai pesantren.
Downloads
Download data is not yet available.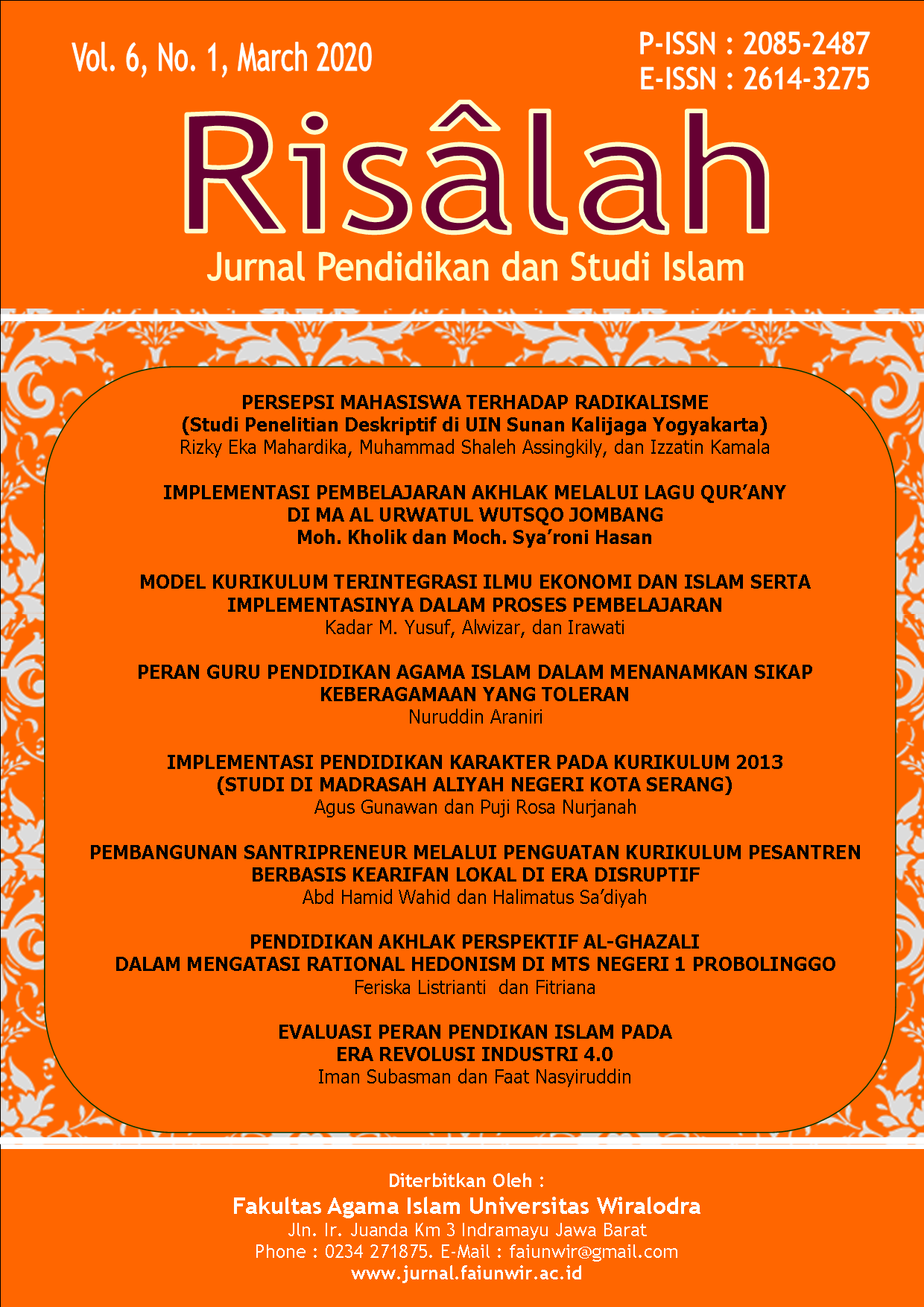 How to Cite
Subasman, Iman, and Faat Nasyiruddin. 2020. Risâlah, Jurnal Pendidikan Dan Studi Islam 6 (1, March), 117-33. Accessed September 29, 2020. https://doi.org/https://doi.org/10.31943/jurnal_risalah.v6i1,%20March.128.
is licensed under a
Creative Commons Attribution 4.0 (CC-BY 4.0)
Based on a work at
https://jurnal.faiunwir.ac.id/index.php/Jurnal_Risalah/index
This work is licensed under