PENDIDIKAN AKHLAK PERSPEKTIF AL-GHAZALI DALAM MENGATASI RATIONAL HEDONISM DI MTS NEGERI 1 PROBOLINGGO
Fitriana Fitriana

Universitas Nurul Jadid

Feriska Listrianti

Universitas Nurul Jadid
Keywords:
moral education, Imam Ghozali, rational hedonism
Abstract
This writing intend for present about moral education in islamic junior high school Probolinggo in facing the rational hedonism which trends. Along with a lot of moral decadence, it requires integrative collaboration of all components both in schools, family and community to create an environment that is able to familiariza the behavior of children. This research use a qualitative approach and a descriptive method of case study type, with a research site in islamic junior high scholl Probolinggo. The result of this study indicate that Islamic Junior High School Probolinggo is in the stage of forming the morals of students. So that this scholl is committed to appliying the moral education perspective of al-ghozali in developing the behavior of student to become noble students. Formally in the learning process several methods can be considered according to the circumstances that surround it, namely: exemplary method, habituation method, advice method, and story method. The aim of moral education according to Al-Ghazali is merely to gain the pleasure of God. Indentical to the main happiness of ukhrawi and wordly happiness.
Downloads
Download data is not yet available.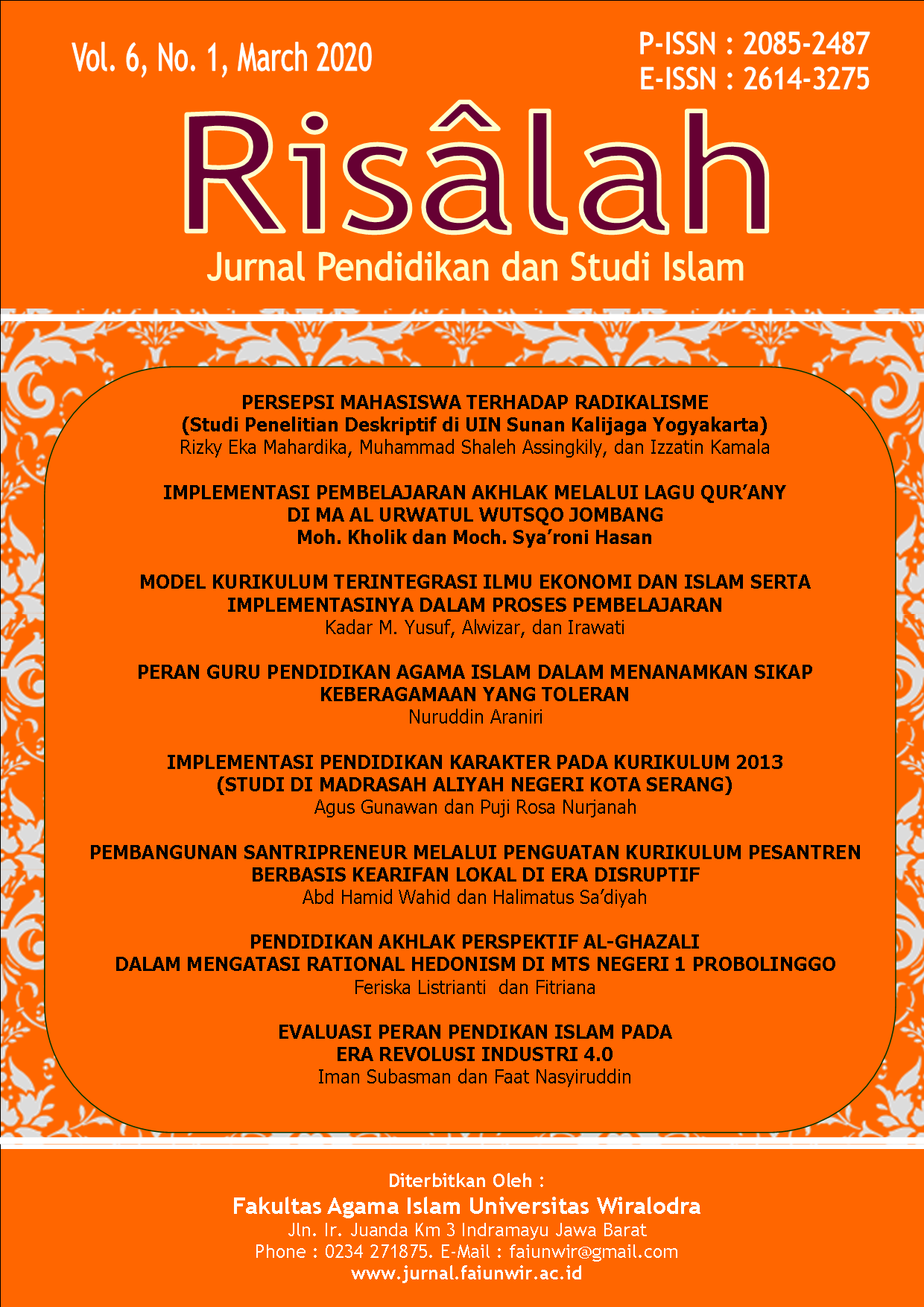 How to Cite
Fitriana, Fitriana, and Feriska Listrianti. 2020. Risâlah, Jurnal Pendidikan Dan Studi Islam 6 (1, March), 100-116. Accessed September 29, 2020. https://doi.org/https://doi.org/10.31943/jurnal_risalah.v6i1,%20March.129.
is licensed under a
Creative Commons Attribution 4.0 (CC-BY 4.0)
Based on a work at
https://jurnal.faiunwir.ac.id/index.php/Jurnal_Risalah/index
This work is licensed under