PEMBANGUNAN SANTRIPRENEUR MELALUI PENGUATAN KURIKULUM PESANTREN BERBASIS KEARIFAN LOKAL DI ERA DISRUPTIF
Abd Hamid Wahid

Universitas Nurul Jadid

Halimatus Sa'diyah

Universitas Nurul Jadid, paiton, Probolingg, Jawa Timur
Keywords:
disruptive, Islamic boarding school, santripreneur
Abstract
This research presents about building satripreneur through strengthening the pesantren curriculum based on local wisdom in the disruptive era. Along with the changing times which are getting faster the disruptive era gives new meaning and new challenges to plural society, not the exception of adolescents whose existence is very influential in the dynamics of the civilization of the times. The method presented is a type of field research with a qualitative descriptive approach. The analysis technique used is content analysis by collecting data in the form of interviews and observations. The results show that the Pesantren Nurul Jadid as an institution in the formation of entrepreneurship cadres in the country. Mentality of production is able to build the spirit of fighting spirit of students to build and print a productive society in the economic field. Santripreneur is able to be a general solution in forming the entrepreneurial spirit of a plural society. In connection with that, the results of the researchers are the existence of a thirty five curriculum (five santri awareness), collaboration with pesantren stakeholders, empowering santri life skill studies in pesantren, build educational institutions that nuanced entrepreneurship, and knowledge of classical books. In this regard, students have absolute entrepreneurial potential so that they are not competent in the field of religion alone but in economic independence. So that's when formed personal superior in mentality, mind and employment when plunging essentially in the world of society.
Downloads
Download data is not yet available.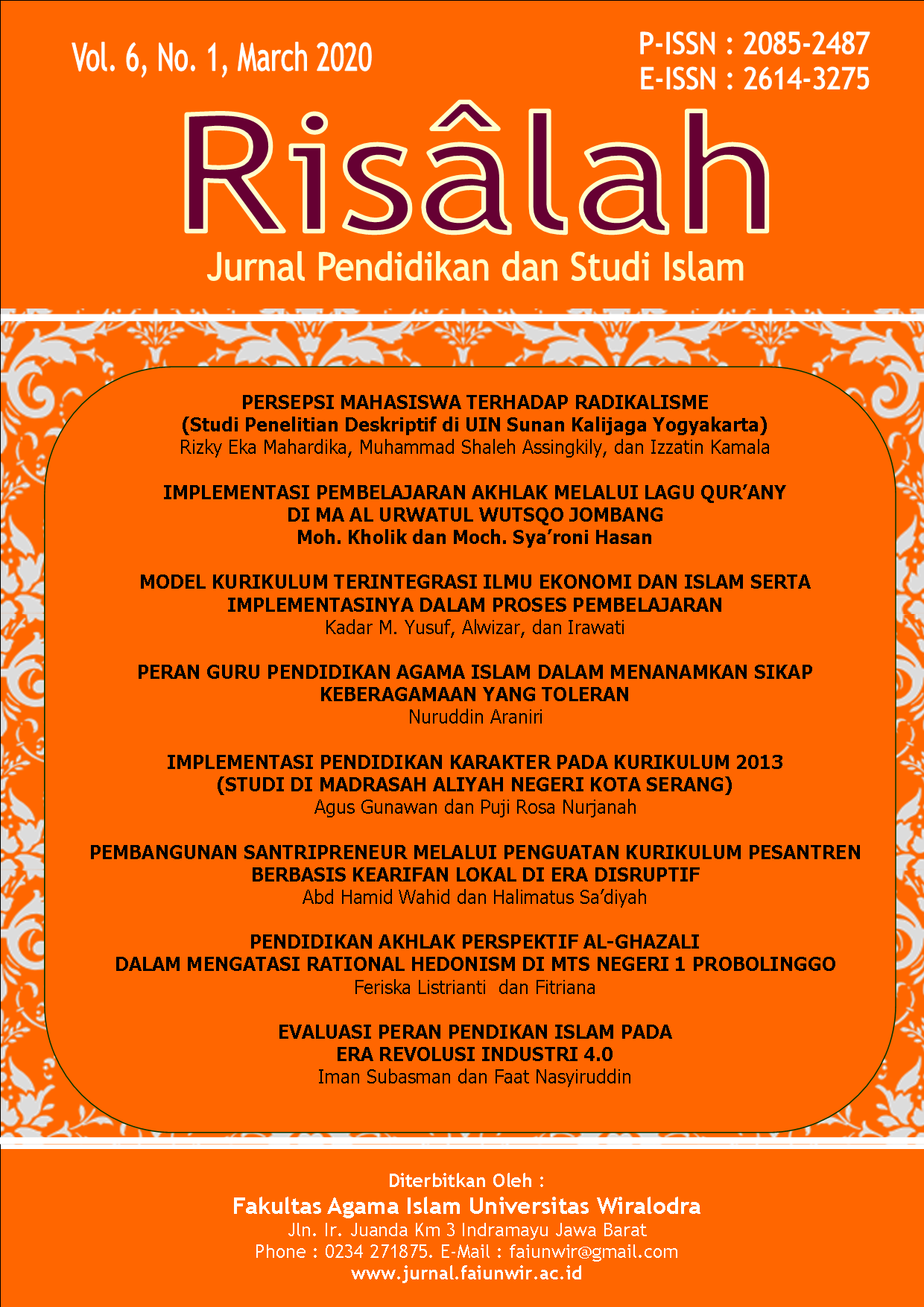 How to Cite
Wahid, Abd, and Halimatus Sa'diyah. 2020. Risâlah, Jurnal Pendidikan Dan Studi Islam 6 (1, March), 80-99. Accessed September 29, 2020. https://doi.org/https://doi.org/10.31943/jurnal_risalah.v6i1,%20March.130.
is licensed under a
Creative Commons Attribution 4.0 (CC-BY 4.0)
Based on a work at
https://jurnal.faiunwir.ac.id/index.php/Jurnal_Risalah/index
This work is licensed under