TAMAN PENDIDIKAN AL-QUR'AN BERBASIS PENDIDIKAN MANUSIA
Hasbi Indra

Sekolah Pascasarjana Universitas Ibn Khaldun Bogor
Keywords:
Quranic education, challenges, creativity
Abstract
Abstract
Students who study in Al-Quran Education are part of human resources that can help build Indonesia now and in the future. The existence of this education has been regulated by the government in order to prepare a quality generation that is able to compete in the coming era. This education is in the middle of the era of competition between nations marked by the rapid development of science and technology as well as the negative impact of human lifestyle that is hodonistic and consumeristic. This education guides the Qur'an and the hadith for its students to be present in the middle of life with its qualities. This educational institution aims to produce education and be able to compete in this era, for that it must be responded to through its curriculum. This education must prepare students to have the bases of self-potential love of science, creative, independent who will have an entrepreneurial spirit, good character such as discipline, responsibility that can be developed at the next level of education. Implanting this through good learning methods is fun. They are ready to be an important part to help build the nation. This is descriptive qualitative research and analysis whose data sources are taken from books, journals and other documents relating to the themes discussed.
Downloads
Download data is not yet available.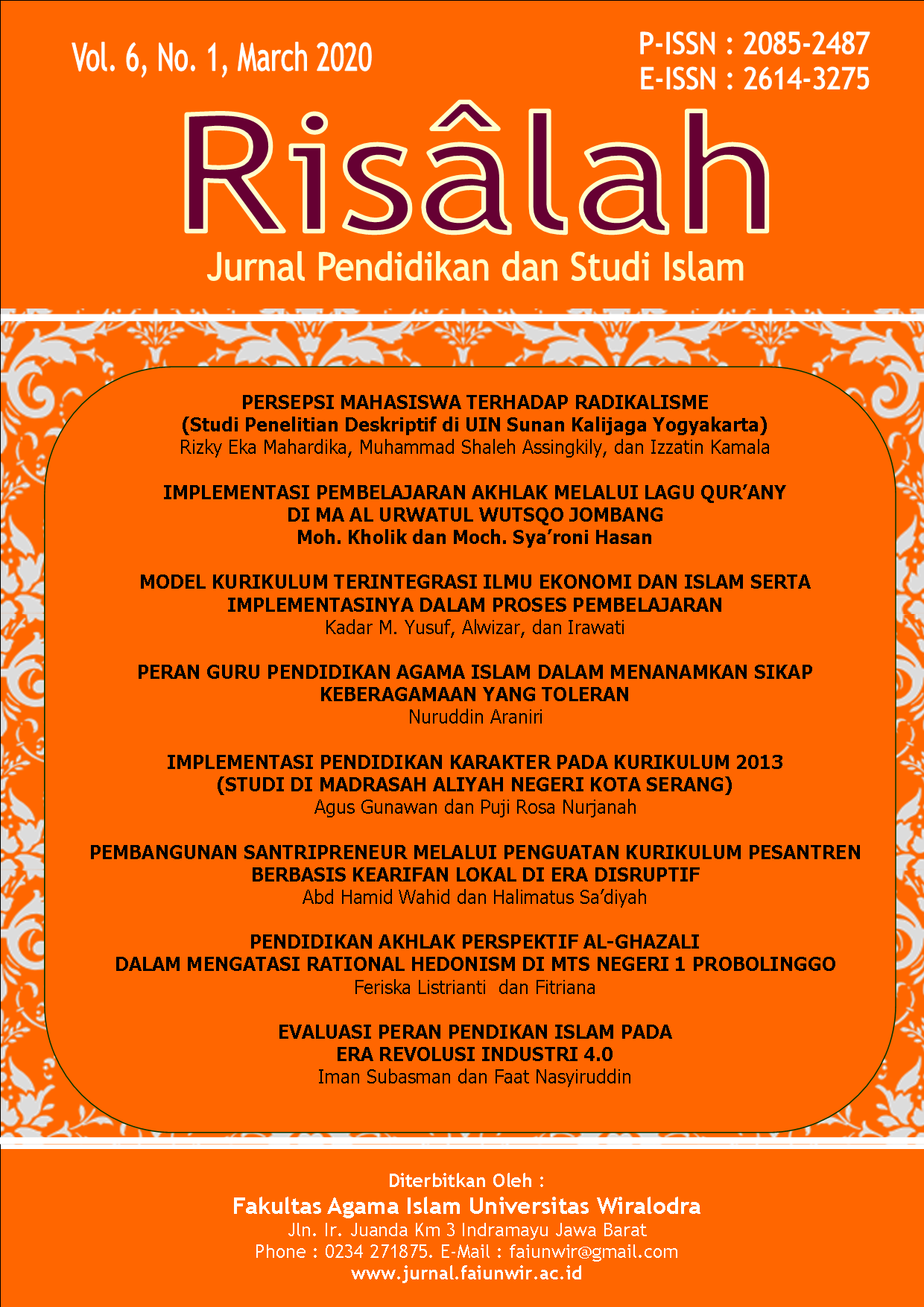 How to Cite
Indra, Hasbi. 2020. Risâlah, Jurnal Pendidikan Dan Studi Islam 6 (1, March), 150-64. Accessed September 29, 2020. https://doi.org/https://doi.org/10.31943/jurnal_risalah.v6i1,%20March.134.
is licensed under a
Creative Commons Attribution 4.0 (CC-BY 4.0)
Based on a work at
https://jurnal.faiunwir.ac.id/index.php/Jurnal_Risalah/index
This work is licensed under