PENGUATAN RECEPTIVE SKILLS SISWA MELALUI METODE UMMI PADA PEMBELAJARAN AL-QUR'AN DI MADRASAH
Hambali Hambali

Universitas Nurul Jadid

Wardatul Hurriyah

Fakultas Agama Islam Universitas Nurul Jadid
Keywords:
Receptive skills, Ummi Method, Qur'anic Learning
Abstract
This study aims to analyze and understand the strengthening of students' Receptive skills through the Ummi method in al-Qur'an learning in Madrasah Ibtida'iyah Miftahul Ulum, Bengkak, Wongsorejo, Banyuwangi. Strengthening students' Receptive skills has an important role in improving the skills of listening and reading the Qur'an through the Ummi method. This research uses a qualitative approach with case study. The technique of collecting data is done through; interview, observation and documentation. Data analysis is conducted circularly through the stages of presenting research data, data reduction, to the conclusion. The results showed that; The ummi method applied in the Miftahul Ulum Madrasah Ibtida'iyah, Wongsorejo, in order to improve students' Receptive skills competence in learning the Qur'an is very good. This is indicated by the development in aspects of reading the Qur'an of students, which includes aspects; children's fluency in reading the Qur'an, mastery of the knowledge of recitation, which is shown by the accuracy of "makhorijul huruf" students when reading the Qur'an, and the smoothness of students in reading the Qur'an. The implications of this study indicate that, a well-implemented and disciplined method will provide maximum and satisfying results.
Downloads
Download data is not yet available.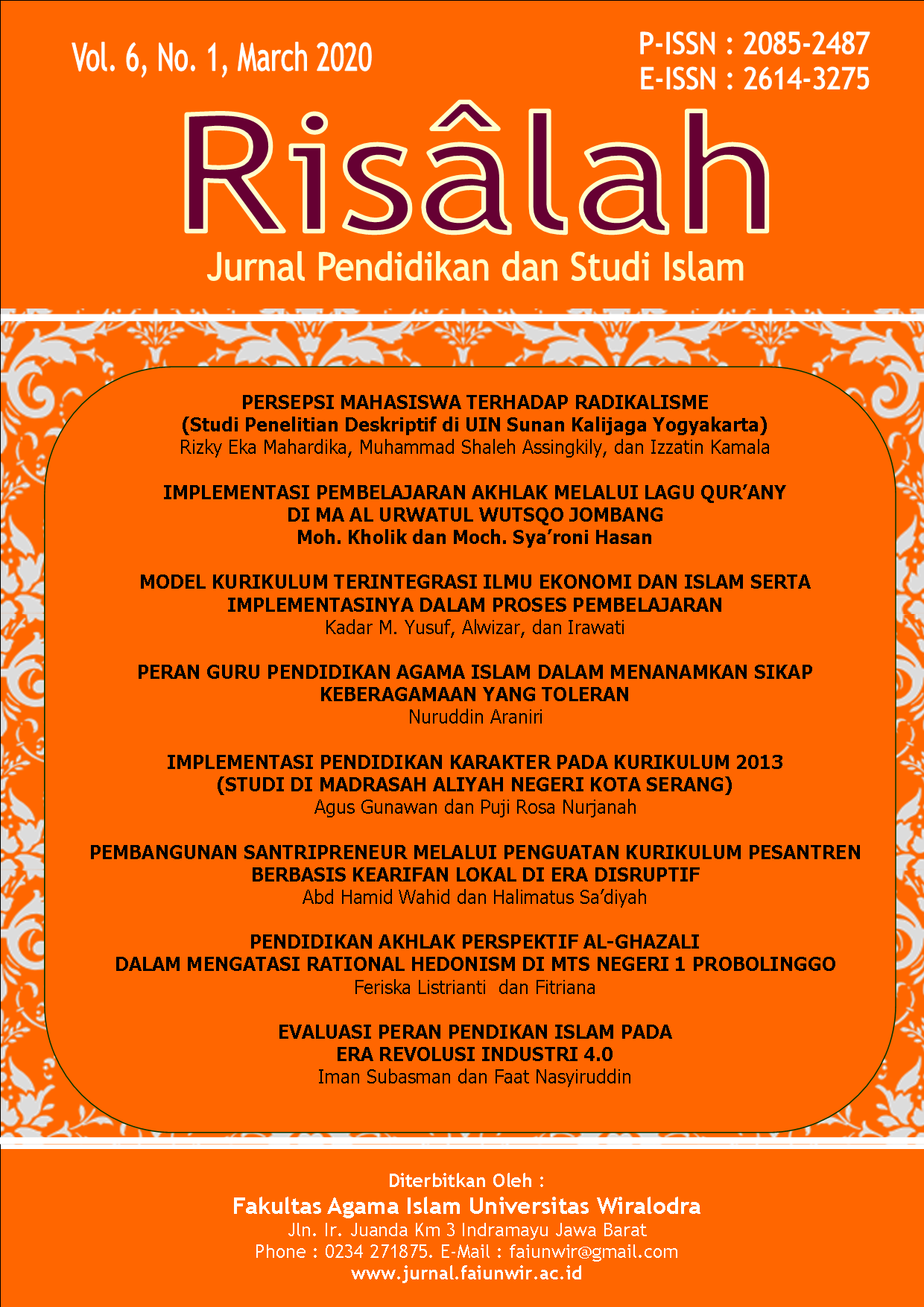 How to Cite
Hambali, Hambali, and Wardatul Hurriyah. 2020. Risâlah, Jurnal Pendidikan Dan Studi Islam 6 (1, March), 134-49. Accessed September 29, 2020. https://doi.org/https://doi.org/10.31943/jurnal_risalah.v6i1,%20March.136.
is licensed under a
Creative Commons Attribution 4.0 (CC-BY 4.0)
Based on a work at
https://jurnal.faiunwir.ac.id/index.php/Jurnal_Risalah/index
This work is licensed under